Top-Rated Landscape Lighting
enhance the beauty of your surroundings as the sun sets.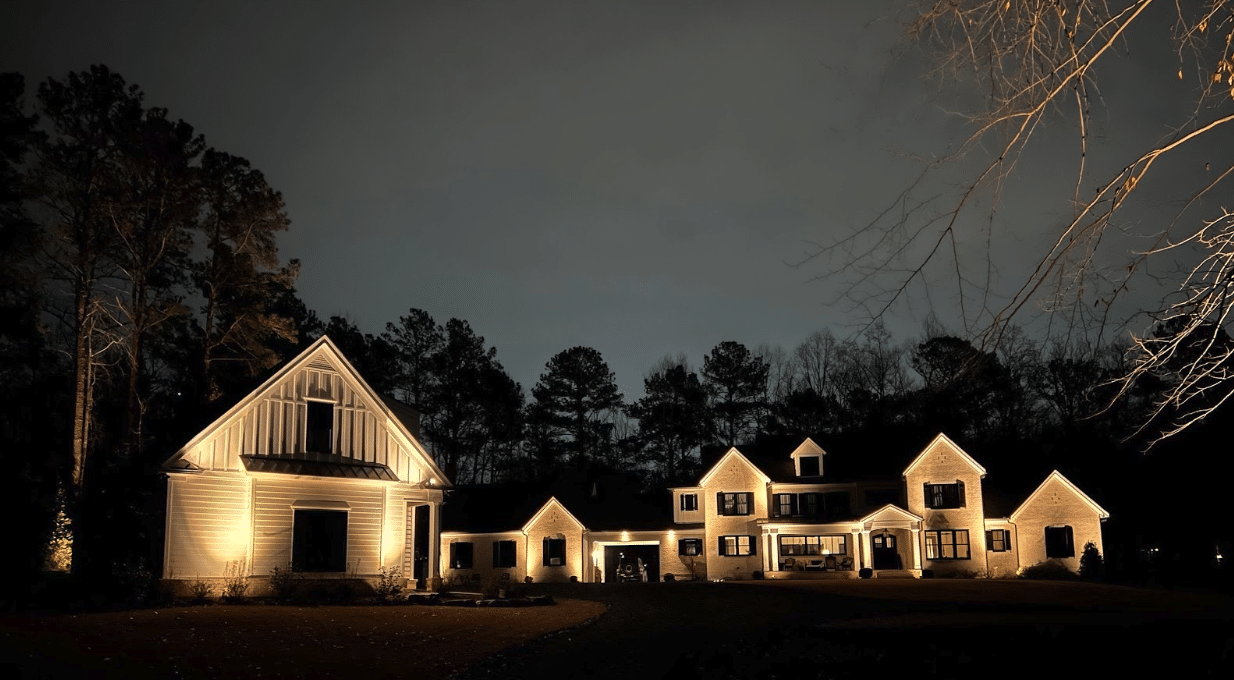 Have you ever driven around your community and seen some outdoor lighting designs that really showcased a particular lawn, home, or business property? If so, then you probably know that those designs didn't just happen without a little thought and planning, in order to create such a spectacular sight. If you are interested in recreating some of the pretty scenes that have caught your attention, or if you would like to create something that is unique to your own property, then enlisting the help of the lighting professionals from Lights All Year may be very beneficial for you.
Imagine a world without the benefit of lights; night after night would become a challenging place to live in, on a daily basis, without the illumination of the evening hours. Our company, Lights All Year, is your local expert in all aspects of lighting needs, projects, designs, installations, and maintenance services. We take pleasure in knowing that our lighting services help to brighten up the residential and commercial properties, all throughout Duluth and the surrounding areas.
When you hire Lights All Year professionals to assist with your lighting installation processes, we guarantee our work, and we will do everything we can to minimize our own footprint on your property. Whether we are working in your flower beds, around your pool deck, along your walkways, or any other part of your property, we will work methodically and carefully always. Our technicians are very neat and accurate in their workmanship, because we all know that your property is a big investment and we want our services to highlight your unique surroundings.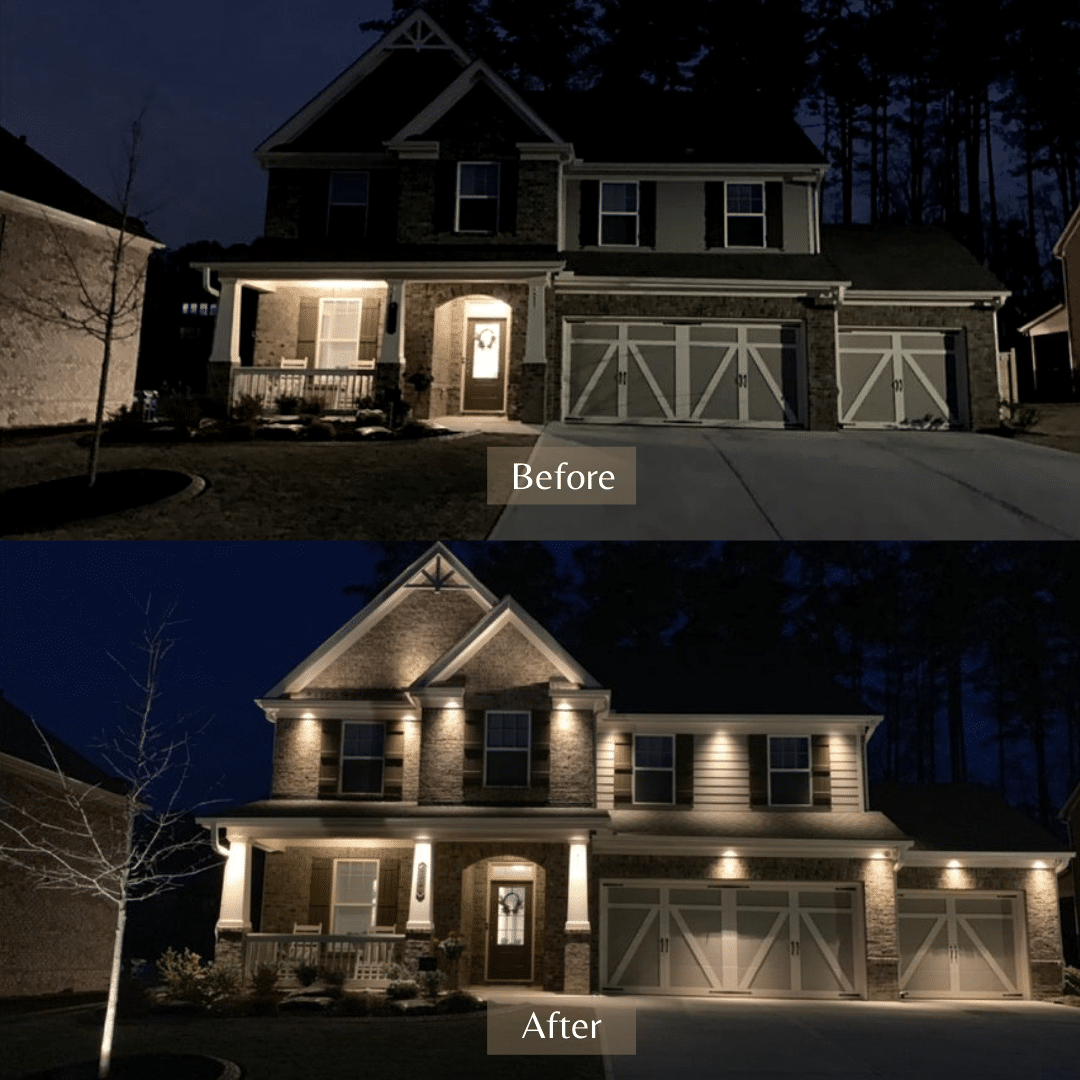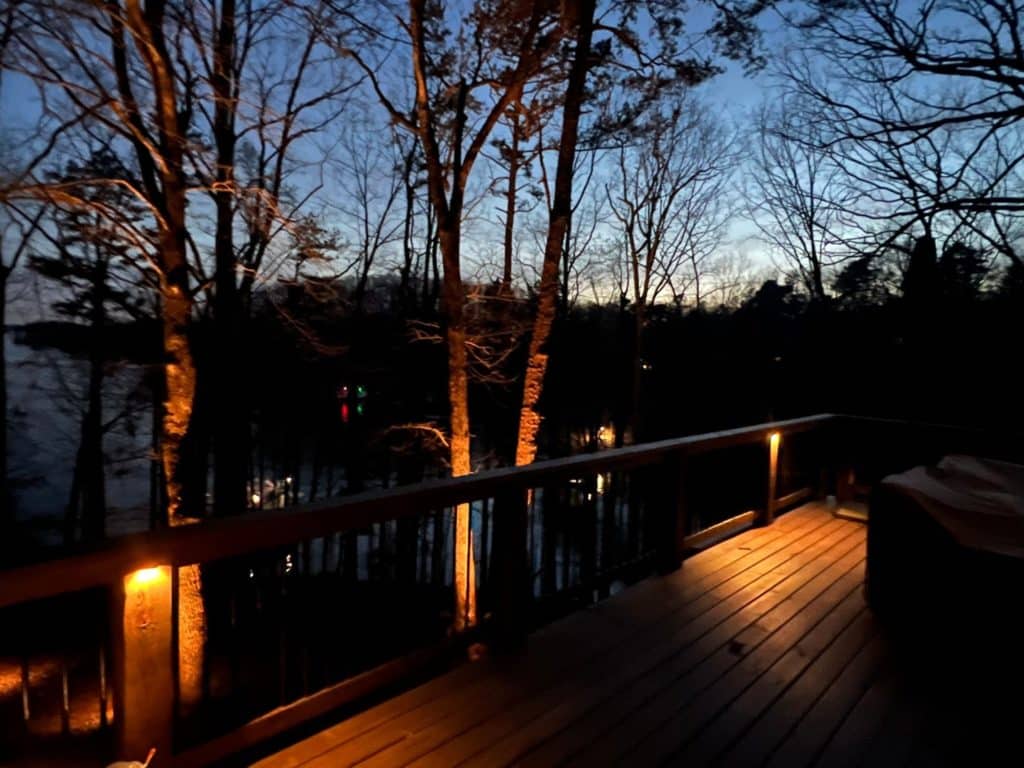 Light fixtures that you have strategically placed around your property can add great curb appeal and a sense of security for everyone around; however, taking care of your lights can be a dreaded chore for some people. Perhaps you have pole lights that are difficult to reach, or perhaps you are having a challenging time finding the exact kind of lightbulb you need, in order to replace one of your landscape lighting fixtures. No worries! In Duluth and the surrounding communities, Lights All Year is your local expert for all types of lighting maintenance projects. If you need maintenance services for your outdoor lighting fixtures, then please give us a call anytime. We are more than happy to help you!
Lights All Year team members are trained, knowledgeable, and equipped with design ideas that can benefit any type of property. Our customers are welcomed to view the designs that we already have plans for, or we will gladly work with you, in order to create something that is unique just for you. We know that your property is important to you, and our goal is to help you enhance your surroundings, any way you wish.
We can help you with lighting designs that will be pleasing and practical for many years to come, as well as keeping your budget in mind, too. We enjoy working with our customers on lighting designs that will help you illuminate areas of your property that you wish to have showcased or intensified. If you would like to learn more about our lighting design services, then please contact a Lights All Year representative today!
We offer professional landscape lighting services in the following areas:
4 benefits of
Landscape Lighting
Enhanced Security
Extended Outdoor Living
Curb Appeal and Aesthetics
Increased Property Value
Enhanced Security
Enhanced Safety and Security
Well-designed landscape lighting enhances safety and security by illuminating potential hazards such as steps, uneven surfaces, and dark corners. It also deters unwanted visitors, providing a sense of security for you and your family. Motion-activated lights can further discourage intruders and alert you to any movement around your property.
Extended Outdoor Living
Curb Appeal and Aesthetics
Increased Property Value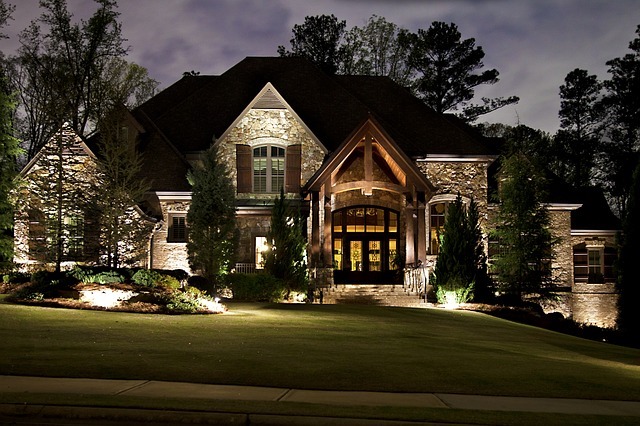 Your Satisfaction is always guaranteed
Experience the beauty of your surroundings illuminated to perfection with our Landscape Lighting services. At Lights All Year, we prioritize your satisfaction above all else. Our team's meticulous attention to detail ensures your outdoor spaces are transformed into enchanting havens, bringing your vision to life.
OUR CLIENTS LOVE US
You will too
Why would I ever climb on top of my house when I can just hire these guys? I hate heights.
Our Christmas lights were just outstanding! Talk of the neighborhood!!
They did a great job with responding to initial request and with scheduling my job. They came out on time and finished in a reasonable amount of time. There was a minor issue with one of the lights noticed on the night of install, but I emailed right away and it was fixed the very next day! Happy with everything and will use them again!
A excellent choice to make your unique holiday lighting display. High quality commercial grade LED lights on a continual custom made wire strand (less plugs) makes for a worry free and safe holiday experience with family and friends. Dedicated and experienced staff from sales on down to the installation crews is backed by their many repeat customers and positive reviews. Book your free estimate early to avoid the rush. October is a good time to set your appointment.
We were looking for a company to purchase an artificial Christmas tree for us to have in our home, put it up in our house in late November, and pick it up in January and store it for us. Ryan and Brett were able to do exactly this for us! I highly recommend this company to anyone looking for great service that is timely and very accommodating.