Landscape Lighting Alpharetta, GA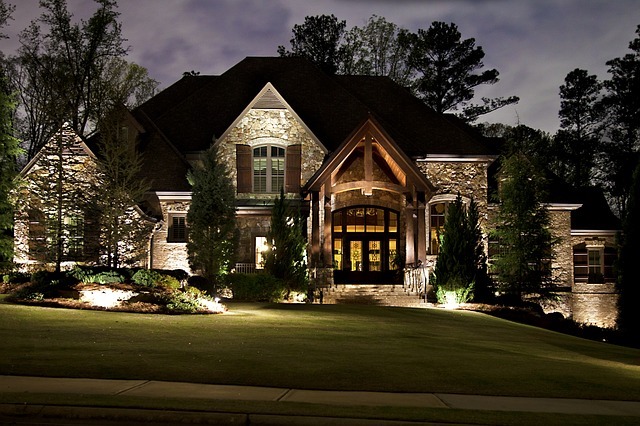 Looking For Alpharetta Landscape

Lighting Near Me?
If you've been searching for landscape lighting near me, Lights All Year is here to help! We are a reliable, dedicated, and professional landscape lighting company that aims to provide our customers with high-quality results. If you're looking to brighten up your landscaping and home, our services are the perfect option. 
The process of our landscape lighting installation is quite simple. We take all of the stress and pressure off of you by taking over this project for you. All you need to do is schedule the free quote. We will then sit down with you and discuss your goals and vision for your lighting installation, and we will come up with a design that properly highlights the main features of your home and landscaping. When it comes to our design process, we will take a look at the architecture of your home and landscaping. Perhaps you have a fountain in front of your home, we will want to highlight it with our lighting display, as it's a main focal point. Our goal is to enhance the beauty of your home with lights that will showcase it instead of overpowering it. We'll ensure that your property looks stylish, warm, and inviting by the time we leave. Our goal is to exceed your expectations and provide you with the best landscape lighting in Alpharetta, GA.
High-Quality

Landscape Lighting Installation
If you've been searching for Alpharetta landscape lighting companies near me, you're in the right place. Our landscape lighting company specializes in residential and commercial lighting fixtures. We offer a full range of other services, like event lighting, holiday lighting, and wedding lighting. You can turn to us for all of your lighting needs. We pay attention to the small details so nothing is overlooked or missed. With each job we do, we put our experience, creativity, knowledge, and talent to the test to provide you with excellent results. You can trust that your home and property are in good hands with us, as we prioritize safety, customer service, and your satisfaction. We will go above and beyond to ensure that you're happy with the final results of your hardscape lighting in Alpharetta, GA, and that you had a great overall customer experience with us.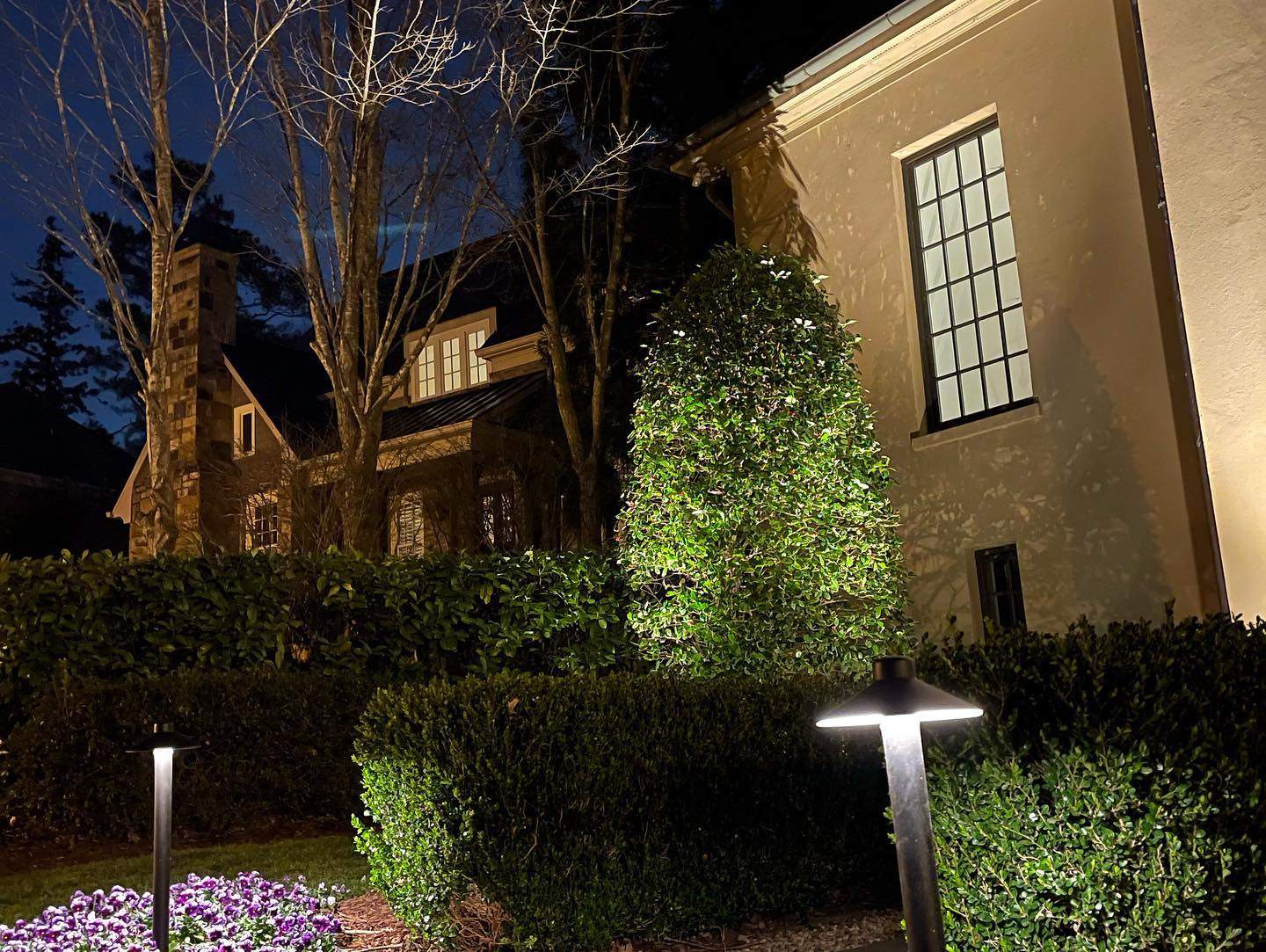 Outdoor Lighting Services in Alpharetta, GA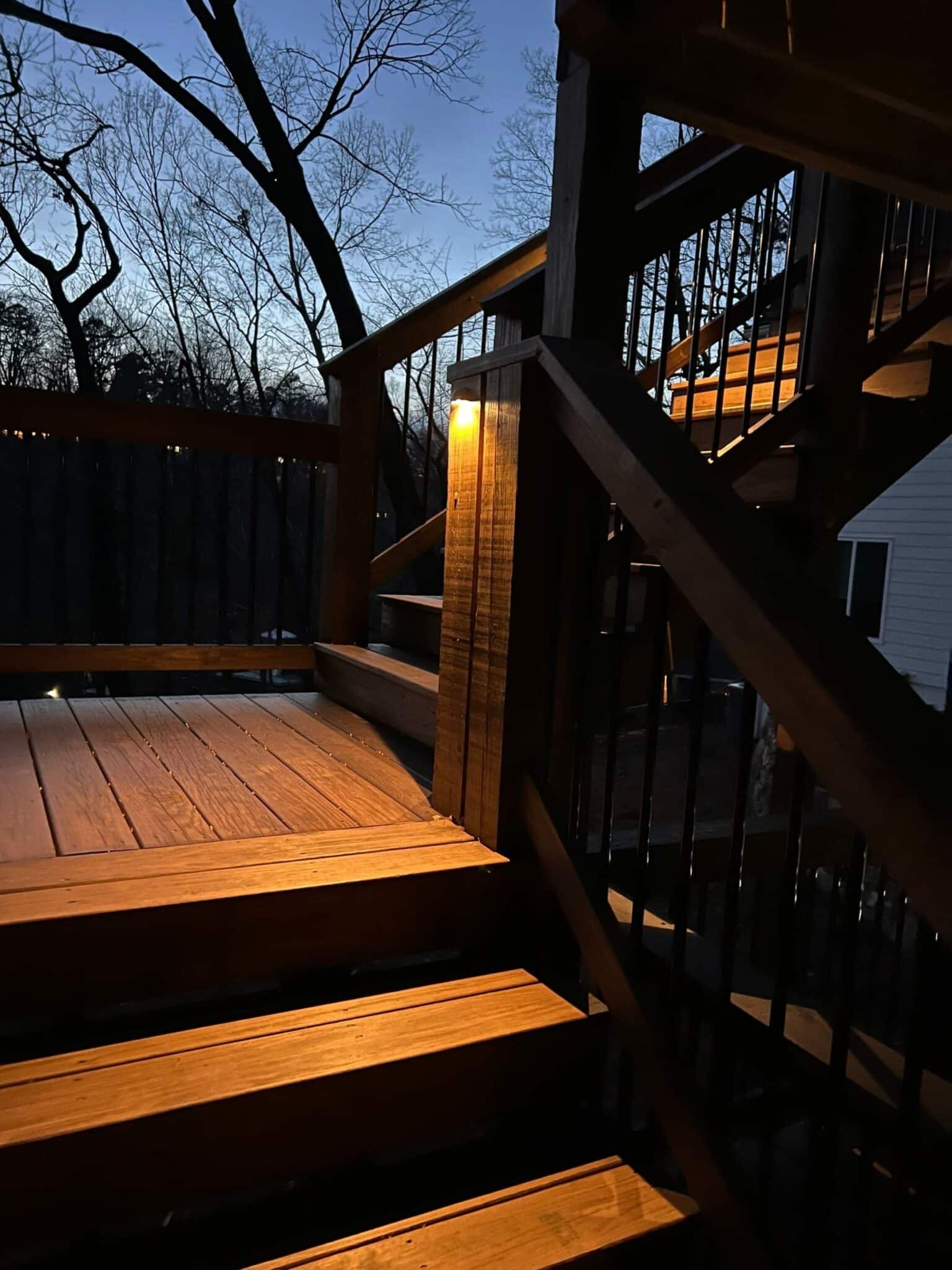 Enhance Your Property With

Low Voltage Landscape Lighting
Most homeowners spend a significant amount of time, money, and energy perfecting their landscaping. By the time the sun goes down, you're unable to fully enjoy or bask in the hard work you've put in due to the darkness. At night, without proper lighting, your property becomes invisible. You not only are unable to enjoy the view of your landscaping or take in the beauty of your home, but it can also become dangerous to navigate around your property. The lack of light can become a safety hazard. If you've ever walked around your property at night or tried to get the mail in the dark, you know how challenging this can be. Even if the path on your property is decently easy, you risk tripping over a rock or missing a step on your stairs. You or a guest could slip and fall. Not to mention, the lack of light around your property can also become a security issue.
When your property is pitch black, it essentially becomes an easy target for burglars to break in without being caught. They are less likely to target a well-lit home, as they know that they have more of a chance of getting caught red-handed. Our house landscape lighting service will improve the curb appeal of your home and property at night by making the main features of your property and home a focal point. Our hardscape lighting is eye-catching, and classy, and enhances the beauty of your home. Your home is an investment, and you've likely put blood, sweat, and tears into creating a house that you're proud to call home. You deserve to be proud of your investment, and this is the perfect way to show it off- even at night with our outdoor landscape lighting in Alpharetta, GA.
Call Us Today For

Hardscape Lighting In Alpharetta, GA
Is the outside of your home dark and dreary during the night? You need something that will brighten up your property, increase security, and showcase the beauty of your home and landscaping. One of the best ways to achieve this is with our low-voltage landscape lighting in Alpharetta, GA. If you're looking to take your property up to the next level, our team at Lights All Year is here to help! To learn more about the lighting services we have to offer or for a free quote, make sure you get in contact with our team today!