Permanent Lighting Cumming, GA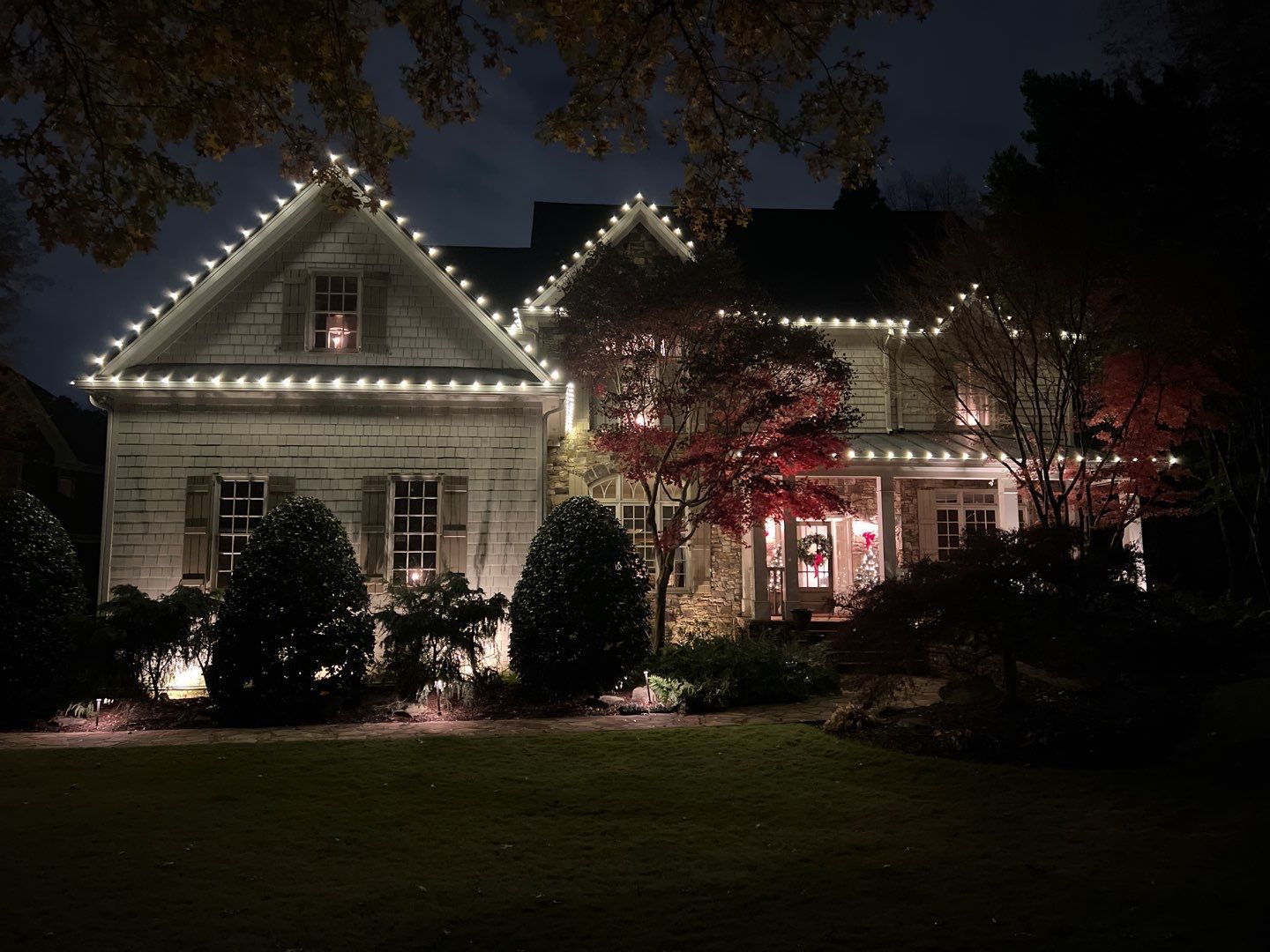 Lights All Year:

The Trusted Exterior Home Lighting Company in Cumming, GA
Whether you're interested in installing permanent outdoor lights to accentuate your property's features or you're looking to adorn your space with the enchanting glow of permanent holiday lights, the expert outdoor lighting installers at Lights All Year have you covered! Cumming, GA's natural charm serves as the perfect canvas for the charm of permanent lighting. From the serene landscapes to the cozy evenings spent outdoors, our permanent lighting solutions complement the natural beauty that Cumming has to offer. Our dedicated team is skilled at creating designs that enhance your property's aesthetics while providing functional illumination that stands the test of time.
With a commitment to craftsmanship, attention to detail, and a deep understanding of the local landscape, we have established ourselves as the go-to exterior lighting company in Cumming. At Lights All Year, we believe that your property's exterior deserves to shine as brilliantly as the community it resides. Our team of skilled professionals is dedicated to transforming your vision into reality, crafting exterior lighting designs that not only illuminate but also enhance the aesthetics of your home.
Whether you're seeking to accentuate architectural features, highlight outdoor spaces, or create an inviting ambiance, our expertise ensures that every aspect of your exterior lighting is meticulously planned and executed.
As a trusted exterior home lighting company in Cumming, we take pride in our personalized approach. We understand that each property is unique, and we work closely with homeowners to tailor lighting solutions that align with their preferences and property's character. Our process involves listening to your goals, understanding your design aspirations, and delivering lighting installations that not only meet but exceed your expectations. Lights All Year stands out not only for our exceptional installations but also for our commitment to customer satisfaction. We recognize that every home is unique, and our dedicated team takes the time to understand your preferences, style, and specific lighting needs. From selecting the ideal fixtures to orchestrating flawless installations, we prioritize delivering results that align perfectly with your vision.
Expert Exterior Lighting Installers

Cumming, GA Residents Trust
Low-voltage outdoor lighting is not only visually appealing but also environmentally responsible. By utilizing energy-efficient technologies and carefully designing lighting layouts, we ensure that your Cumming property shines brightly without unnecessary energy consumption. Our commitment to sustainability is a reflection of our dedication to enhancing your space while minimizing your ecological footprint. What sets us apart as low-voltage outdoor lighting experts is our comprehensive approach. From concept to installation, our team collaborates closely with you to understand your preferences and goals. Whether you're looking to illuminate pathways, highlight landscaping features, or create a cozy outdoor living area, we tailor our designs to suit your needs and enhance your property's charm.nly adds ambiance but also conserves energy, making it a practical choice for the modern homeowner who values sustainability. Our dedication to excellence and innovation shines through in every project we undertake. From concept to execution, Lights All Year's low-voltage landscape lighting installation experts are committed to creating captivating designs that elevate your outdoor space, all while reducing your carbon footprint.
With Lights All Year as your trusted partner, you're not only benefiting from our expertise but also contributing to a more environmentally conscious way of lighting. Let us transform your Cumming property into a luminous oasis that reflects your style, aligns with your values, and creates lasting memories.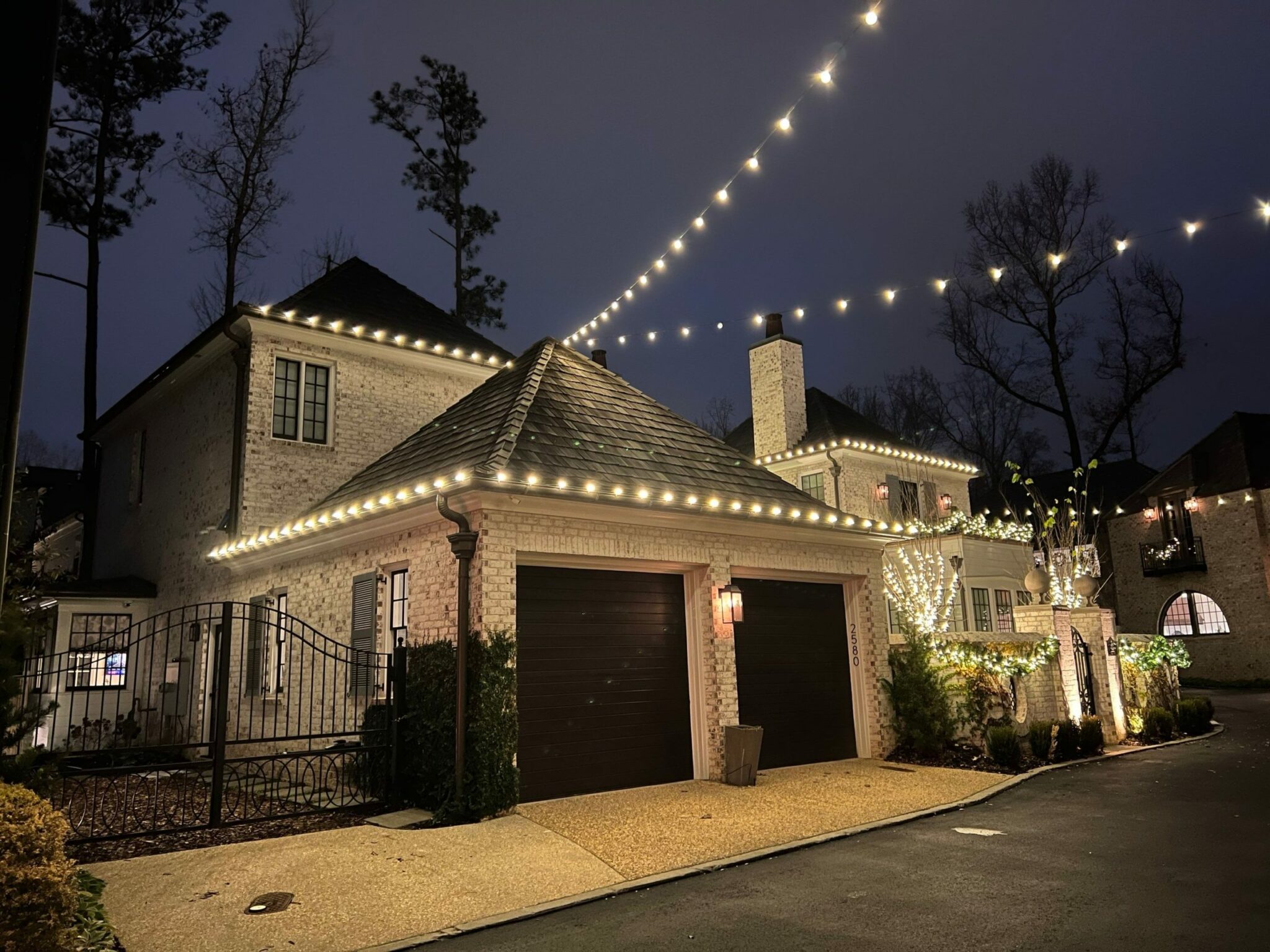 Outdoor Lighting Services in Cumming, GA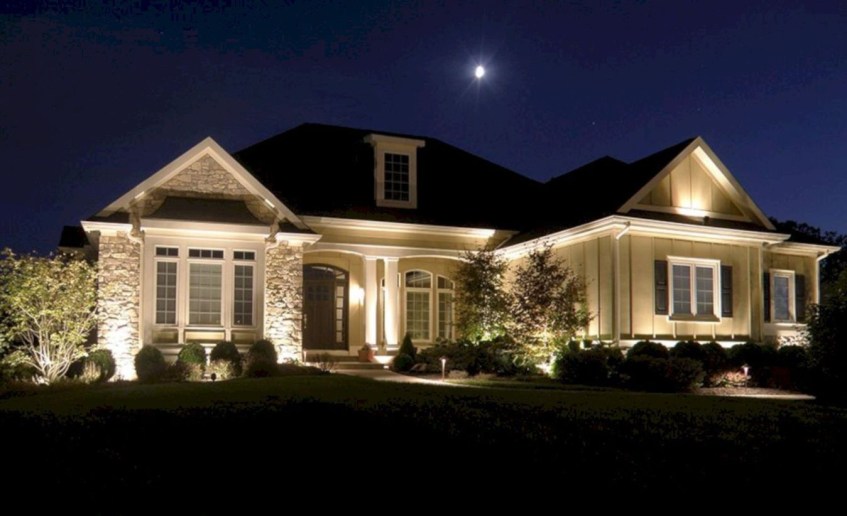 One of the Best Outdoor Lightingfor

Companies in Cumming, GA
Imagine hosting a garden party under the soft glow of calming blue hues or infusing your outdoor space with the warmth of red and orange shades during a cozy winter night. With RGB LED lights, you're no longer limited to traditional white lighting, you're free to express your creativity and customize your lighting to match your unique preferences. Lights All Year is dedicated to bringing your lighting visions to life. Our team of experts is skilled in designing and installing RGB LED lighting setups that cater to your individuality. We collaborate with you to understand your lighting goals, preferences, and the mood you wish to create. Whether you're looking to highlight architectural features, illuminate pathways, or enhance your outdoor living areas, RGB LED lights provide a dynamic solution that adapts to your needs.with close friends or a festive celebration with family, hardscape lighting brings a touch of magic to your outdoor events. Hardscape lighting not only enhances the aesthetics of your outdoor setting but also adds a layer of functionality that allows you and your guests to navigate and enjoy the space comfortably, even after the sun sets.
Elevate your Cumming, GA home with the captivating allure of RGB LED lights. Contact us today to explore how these innovative lights can transform your space, add a touch of magic to your evenings, and create an ambiance that reflects your style and creativity.
Get Started with Permanent

Christmas Lights Today!
Are you ready to infuse a lasting touch of radiance into your Cumming, GA property? With Lights All Year's permanent outdoor lights, you have the opportunity to transform your space into a luminous masterpiece that captivates day and night. Whether you envision the charm of permanent holiday lights or the elegance of permanent outdoor fixtures, the journey to enhancing your property's allure begins with a simple step, give us a call!
Don't wait to embrace the beauty and allure of permanent outdoor lights. Contact Lights All Year today to initiate your journey toward creating an inviting, captivating, and well-illuminated space. Our team is excited to collaborate with you, translating your ideas into a luminous reality that adds a touch of magic to your Cumming property.