Event Lighting in Sugar Hill GA
Event Lighting in Sugar Hill GA
Sugar Hill is a small community that is located about 40 minutes northeast of Atlanta. Approximately 25,000 people call Sugar Hill their home, and the residents have plenty of opportunities to enjoy the area's inviting parks, quaint small-town atmosphere, and all of the amenities that living close to a bigger city can offer. If you are a residential or commercial property owner in the Sugar Hill vicinity, then our company, Lights All Year, would like to offer our professional lighting services to you, anytime you want to transform your property into something remarkable, practical, and beautiful.
Top-Rated Holiday Lighting Sugar Hill
We have many services that we offer to our customers. Some of our professional services include; LED event lighting, outdoor entertainment lighting, party lighting, wedding lighting, holiday lighting, Christmas light installation, and so much more! Whether you are looking for someone to help you install general event lighting or someone who specializes in Sugar Hill Christmas light installation, or even help from Christmas decorators, then our technicians can help you take care of all of your projects.
Outdoor Entertainment Lighting and Wedding Lighting Services
We know that you take great pride in your home or your business, and we are eager to help you transform your property into a place that is highlighted, safe, and appealing for everyone to enjoy during any social event or gathering. Many property owners want to have outdoor LED lighting installed, in order to provide safety for anyone that is walking around and enjoying the outdoor space whether it be during a wedding or a holiday party.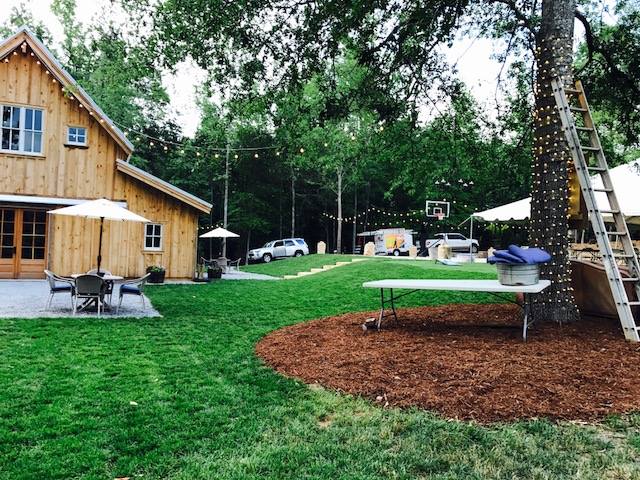 #1 Party Lighting & Christmas Light Installation Sugar Hill GA
If you are a property owner in the Sugar Hill area and you have visions of illuminating your property in particular ways, then please contact the professionals from Lights All Year for assistance. We have the knowledge and the experience to help you with lighting design, installation, and superior function, and we guarantee the work that we provide for our customers. 
Christmas Decorators at both Residential & Commercial Properties in Sugar Hill
We gladly offer free estimates for potential projects, and we look forward to hearing from you anytime!