Outdoor LED Landscape Lighting Pros & Christmas Light Installation Pros in Roswell GA
Outdoor LED Landscape Lighting Pros & Christmas Light Installation Pros in Roswell GA
If you are a resident or business owner in the Roswell area, and you have been looking for LED landscape lighting Roswell, then please contact our company, Lights All Year. We are a professional outdoor LED lighting company, and we have a full range of lighting services to offer to all of our customers. Our team members are knowledgeable and trained in all types of lighting services, including lighting design, installation, and maintenance, too.
Top Rated Roswell Landscape Lighting Installation
In addition to offering landscape lighting Roswell services, we also offer outdoor entertainment lighting services, event lighting, wedding lighting, and holiday lighting, too. For the winter holidays, our Christmas decorators take great pride in providing some of the most creative and festive Roswell Christmas light installation services in our area. Our team members are pleased to share our wealth of knowledge and experience, as we highlight various properties in our area, and showcase the beauty of each property, as well.
Outdoor Event and Wedding Lighting Services
Roswell is a city that is rich in history and in charming character. If you are in the region, and you have a residential or commercial property that you would like to enhance by some strategically placed lights, then Lights All Year welcomes the chance to work with you.
Christmas Decorators at both Residential & Commercial Properties in Roswell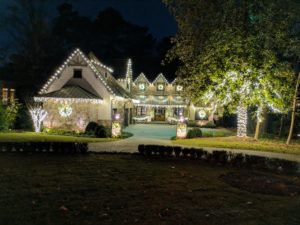 Whether you have flower beds, patios, walkways, a home, or a business to illuminate, or if you want to enhance an outdoor area for the purposes of a special event or for the holidays, then we would like to hear from you.
#1 Roswell Christmas Light Installation
From a basic LED landscape lighting Roswell service to a temporary Christmas light installation Roswell service, we have all of the knowledge, the equipment, and the skills needed to take care of your lighting project.
Our lighting experts from Lights All Year welcome the chance to hear your illuminating ideas that you have for your property, as well as sharing our wealth of knowledge about lighting displays, too. We look forward to working with you, all throughout the year!