Outdoor LED Landscape Lighting & Christmas Light Installation Pros in Duluth GA
Outdoor LED Landscape Lighting & Christmas Light Installation Pros in Duluth GA
Top Rated Duluth Landscape Lighting Installation
Just northeast of Atlanta is the growing, lovely city of Duluth, Georgia. Duluth is a bustling city with an ever expanding population. The city is known for its beautiful parks, educational museums, and local concerts. It is also known for beautiful exterior lighting displays. This is why our company is proud to serve Duluth. Lights All Year is fortunate and excited to offer our landscape lighting services to everyone in the area as well as our renowned Christmas light installation and event lighting.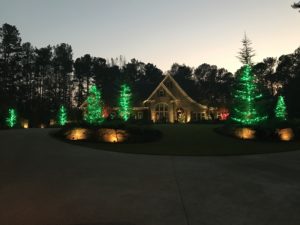 We specialize in transforming your property into a beautifully lit home or business. By offering the best Christmas light installation, wedding lighting, event lighting, and LED landscape lighting, we always stand by our work and guarantee you will be satisfied with any service we are able to offer you!
Outdoor Event and Wedding Lighting Services
Here at Lights All Year we value your time and your creative input. This is why we always try to complete every service we provide in a timely manner, and we do not leave your property until you are 100% satisfied with the lighting service you choose, whether it be Christmas light installation in Duluth, outdoor landscape lighting, or even event lighting, or any holiday lighting plans you may have coming up. We are proud to offer these services year round!
#1 Duluth Christmas Light Installation
Lights All Year professionals know that your home or business is a big investment of your own time and your financial resources. This is why all of our landscape lighting professionals are fully licensed and trained. This ensures we offer only the best services no matter which service we may provide to you. Our lighting professionals are fully equipped to handle any holiday lighting, LED landscape lighting, or Christmas light installation, no matter how large or small the project may be.
Christmas Decorators at both Residential & Commercial Properties in Duluth
Let the outdoor lighting professionals at Lights All Night take care of your next LED lighting project. We gladly offer free estimates anytime. We look forward to working with you, call today!